Samantha Harper hired as new Water Superintendent
Former City of Port Townsend engineer Samantha Harper has been hired as Jefferson County PUD's new Water Superintendent, overseeing all water and sewer staff and operations.
Harper spent 12 years with City of Port Townsend where she worked on engineering projects ranging from water distribution, stormwater management, roads, sidewalks, to facility construction.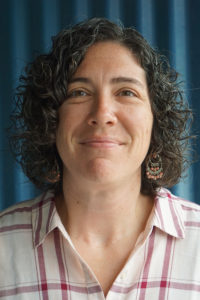 According to Harper, at the City her work was mainly on the "capital and development side."At the PUD, Harper's role will include more "operations" work, which is one of things that attracted her to the job. As Water Superintendent, she'll be managing a staff of seven and overseeing the PUD's nine group "A" public water systems and multiple community drainfields, which serve over 5000 customers across Jefferson County.
And she'll be supplying or reviewing much of the engineering work needed to expand and maintain those systems. Harper is licensed as a Professional Engineer (PE). Having a PE at the head of the water department was critical for PUD General Manager Kevin Streett.
"We've been outsourcing the engineering on the water side for the last couple of years," said Streett. "But we needed someone in house. I worked with Samantha for years when she was at the City. She was the right person for this job, and I am excited to see where she'll take it."
Before joining the City of Port Townsend in 2007, Harper worked for the Stockton East Water District, a public utility in California. Though she is currently licensed as a civil engineer, Harper has a degree in mechanical engineering from San Francisco State University, as does her husband. The two met in school. They moved from California to Washington State when her husband was hired by FKC, Co. Ltd, an industrial manufacturing company in Port Angeles.
Harper commuted from Port Angeles to Port Townsend during her first seven years at the City but relocated to Jefferson County five years ago. She and her husband have two boys, both of whom are in elementary school at Salish Coast. The family is very involved in local team sports. Harper coaches basketball and her husband coaches baseball.
"I like being a part of a small community," Harper said about life in Jefferson County. "And I like working where my boys go to school."
About joining the PUD, Harper said she was excited for the new challenge and the promotion. "I love learning new things and meeting new people. And I like to help people, and that's what I hope to do here at the PUD."