Meter Installations Now County Wide
After going neighborhood by neighborhood from Glen Cove to Port Hadlock, PUD crews are now installing new electrical meters district wide.
The PUD's goal is to replace all its 21,000 electric meters with new Advanced Metering Infrastructure (AMI) by the end of 2023. PUD meter crews have installed approximately 4,700 AMI meters as of May 1st. Replacement efforts began on a trial basis in September of 2022.
According to PUD General Manager Kevin Streett, the goal of the meter replacement project is to have a single modern metering platform that provides accurate readings and two-way communication. The new AMI meters are replacing a mix of 50+ year-old mechanical meters and more recent digital meters of varying styles.
"Our older meters, even the analog ones, send their read data out over a radio signal," said Streett. "Currently, we put a lot of miles on trucks to have meter readers driving all over the county collecting those signals. With AMI, the read goes out over radio signal and back to our main office. No driving necessary."
Streett added that AMI reduces PUD labor and operating costs while adding improved outage detection and alerts, the ability for remote disconnect and reconnect, a pre-payment option, and improved incorporation of EV charging and renewables like solar or wind.
Streett said the decision to move from neighborhood by neighborhood to district wide installation coincided with the end of storm season.
"Now that outages are slowing down, we are having the line crew pitch in along with the meter team to help make the push to finish the project this year. By going county wide, they can pop in meters wherever they happen to be working on a given day or week."
Because a very brief power outage is needed to replace the meter, Streett noted that PUD meter team or line crew members will alert customers with a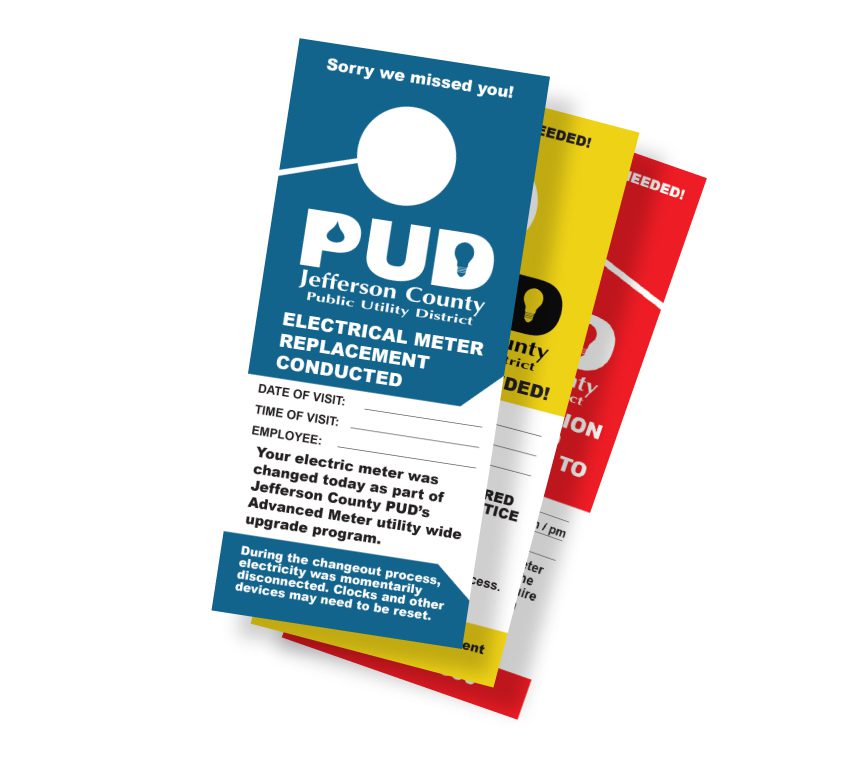 knock on the door prior to beginning work. After the visit, staff will leave a color-coded door hanger indicating either successful replacement, repairs needed, obstructions to the meter, or potential electric hazards.
The PUD requests all customers ensure access to the meter on their property and remove any clutter or barriers that might get in the way. "The meter itself is owned by the PUD. We can't change it out if we can't safely get to it," said Streett. According to the PUD's electric service regulations, preventing PUD staff from accessing meters can result in loss of service.
As part of the cost of the meter replacement project, the PUD is covering limited repairs to and replacements of customer-owned meter bases. The goal of the covered repairs is to ensure employee and customer safety. Funding for the meter replacement project comes from a loan provided by the USDA Rural Utilities Service.
Customers who wish to opt-out of the meter replacement project may request a non-transmitting meter. The application for an opt-out meter is available on the PUD's website: jeffpud.org. Opt-out meters require an additional monthly fee currently set at $5 per month to help the utility recover some of the costs to perform a manual walk-up read at the home. Opt-out registration requires a new, non-transmitting meter to be installed at the service location.
Please ensure that our crews can access the meter on your property. Be sure to remove any clutter or barriers that might get in the way. The meter is owned by the PUD and providing safe access to it is a requirement of receiving electric service.
Learn more on our website: here.