Where Does Your Electricity Come From?
Public Power has its privileges. Besides local ownership and local control, being a publicly owned electric utility allows the PUD to purchase nearly carbon free electricity from the federally owned Bonneville Power Administration (BPA). Prior to going public in 2013, the largest share of Jefferson County's electricity came from coal-burning power plants, and more than 60% was generated by fossil fuels. In 2020, 85% of the electricity the PUD purchased from the BPA came from river water flowing through turbines at the dams on the Columbia River. 11% of our power was generated by a nuclear power plant in the Tri-Cities. Added together, nearly 96% of Jefferson County's electricity comes from carbon-free, non-emitting sources. That makes our power some of the cleanest and greenest in the nation.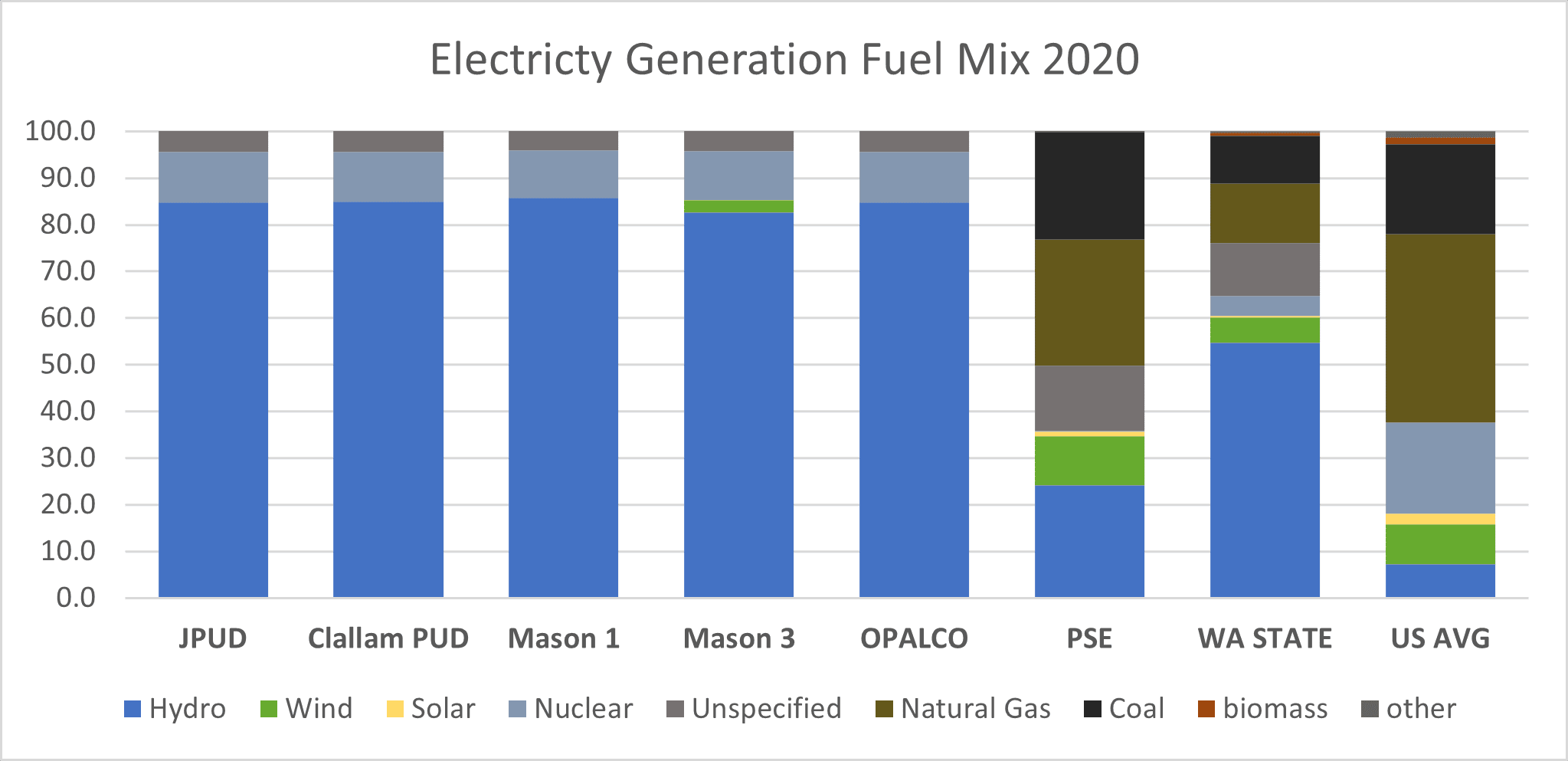 Data Sources: WA State Dept. of Commerce Fuel Mix Disclosures website.    US Dept. of Energy Electricity Generation by Energy Source.
Every year, Washington State reports on the source of electricity for customers throughout the state. Data for the 2020 report is reported in 2021 and comes from the Washington State Department of Commerce's "Washington State Electric Utility Fuel Mix Disclosure Reports for Calendar Year 2020." Note: Unspecified resources come solely from the Bonneville Power Administration's resource mix which stems from its purchases made on the market to balance resource needs with load. The fluctuations in the amount of unspecified is due to many factors including the rain or snow pack supplied and timing of the spring melt.
| | |
| --- | --- |
| Source | % |
| Hydro | 84.7% |
| Wind | 0.0% |
| Solar | 0.0% |
| Nuclear | 10.9% |
| Unspecified | 4.4% |
| Natural Gas | 0.0% |
| Coal | 0.0% |
| biomass | 0.0% |
| other | 0.0% |
| total | 100% |