We are Hiring!
Jefferson PUD is hiring! We have some great positions open for those looking to join our growing, professional workforce.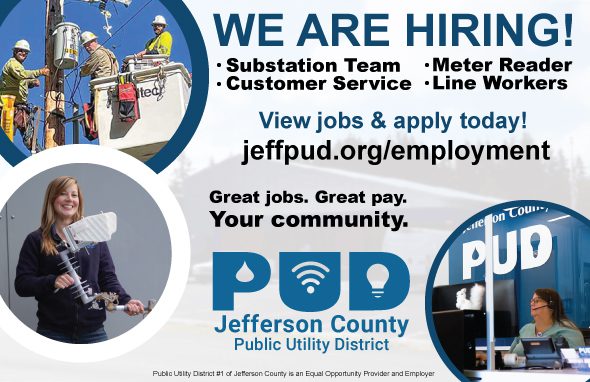 Jefferson County PUD provides electric, water, sewer and broadband services for nearly 20,000 customers in beautiful Jefferson County, WA, and employs more than 50 individuals in a variety of roles, from line workers, to water distribution managers, administrative support staff, customer service representatives, accountants, engineers and more.
Employees receive a comprehensive benefits package including family medical, dental and vision coverage, paid holidays, limited matching of 457(b) deferred compensation contributions, and participation in the Washington State Public Employees Retirement Plan.Considering a job in the utility field?
Visit our employment page at https://www.jeffpud.org/employment/ and apply today!
Jefferson County PUD is committed to the full inclusion of all qualified individuals. As part of this commitment, the PUD will ensure that applicants with disabilities are provided reasonable accommodations.