Publicly Owned and Powered by the Sun!
Installation of Jefferson PUDs first solar array is nearing completion!
A total of 260 panels covering approximately 8,000 square feet have been installed to the PUDs 310 Four Corner Road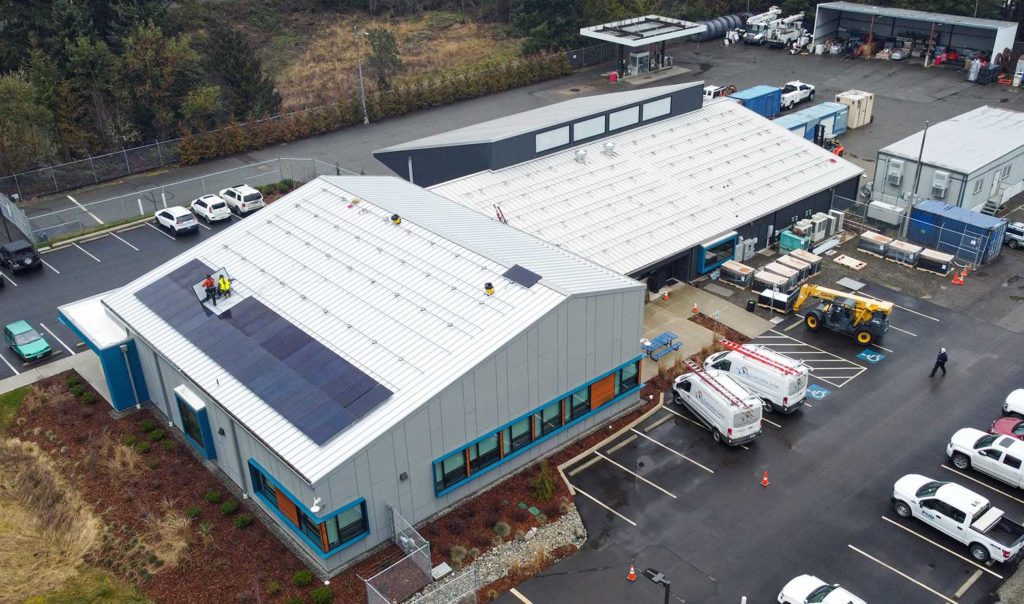 headquarter location. Each individual panel weighs in at 46lbs and connects to a fixed roof-mounted racking system. The 4-array system was installed by Port Townsend-based solar contractor, Cascadia Solar.
The 100,000kW solar installation is estimated to produce 63% of the PUD headquarters annual power needs during a standard weather year with an annual production report estimating panel performance at 85.6%.
$100,000 in project funding was provided by the WA State Department of Commerce Retrofits for Public Buildings grant program. Grant funding scope was heavily dependent upon Washington-made solar equipment.
Installation began in early-March, with final installation of panels, conduit and hardware completed by March 24th. Production delays for the array inverters have an estimated arrival date between April and June 2023.
The headquarters solar installation is a 3-phase production net meter system. Net metering applies to solar panels, wind systems, small hydro systems, and fuel cells (all systems less than 100kW).
Learn more about Jefferson PUDs net metering here.