On the Line – Transmission Pole Replacement (New Video!)
Utility poles undergo an immense amount of stress throughout their lifespan.
Transmission poles must support upward of 4,000lbs of hardware and heavy electrical line and remain standing during extreme weather, falling trees, crashing cars, and the deteriorating effects of aging.
Transmission poles range in length from 75–100 feet. Though they can be made from a variety of materials, most of the PUD's transmission poles are made from a single log shaped from a single large tree. The most commonly used tree species here in the northwest is the Douglas Fir.
Trees destined to become utility poles are specifically selected by professional foresters. The poles are pressure treated and must meet national standards based upon shape, natural and processing defects, and growth characteristics. After grading, poles are sent to utilities for installation.
To remain stable and upright, transmission poles are buried 8–12 feet deep and anchored to the ground using tensioned steel cables.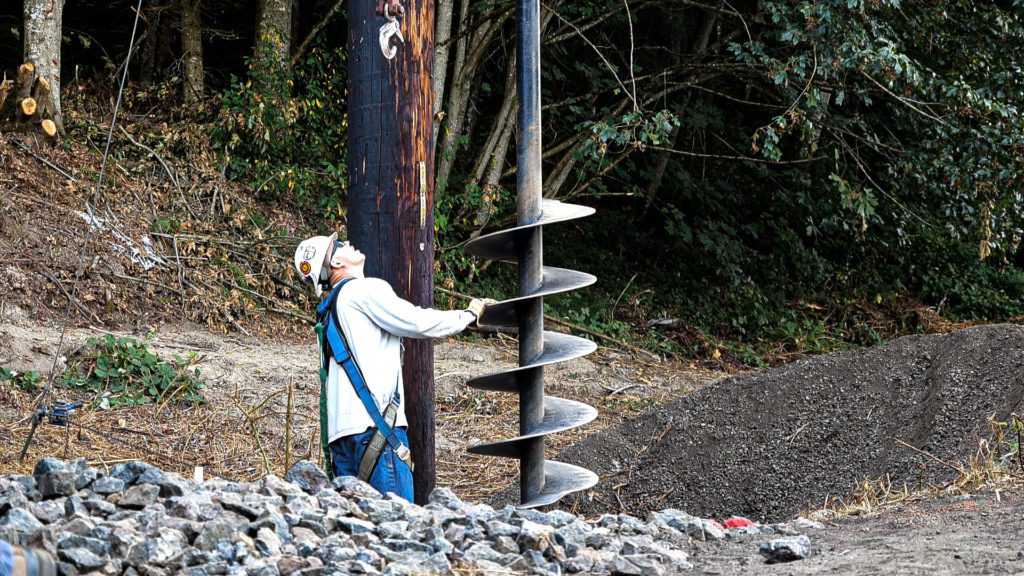 Anchors feature a heavy steel plate threaded to a rod with the eyelet exposed above ground. Crews tension the new pole to the anchor to help distribute forces from utility lines on the poles and keep the pole from swaying.
PUD engineers select proper anchoring positions and calculate the dynamic stresses being applied for each transmission pole. 
The PUD owns and maintains 24 miles of transmission lines throughout the service area. Transmission lines throughout eastern Jefferson County typically carry 115,000 volts to PUD substations. 
Transmission poles often work double-duty by supporting primary distribution lines energized with 7,200 volts that feed into specific regions across the service area. 
Replacement of large transmission poles requires specialized equipment. The PUD works closely with contractor crews who supply large-capacity boom trucks and ground boring machinery to place the new pole and its anchor system.
The new pole is set and leveled and the ground surrounding it is compacted. Utility lines are transferred from the old pole to the new and the line is re-energized.