National GIS Day!
November 16, 2022 marks National GIS Day, a day we celebrate the folks and the systems that help map the world around us.
"Everything is related to everything else, but near things are more related than distant things." -1st Law of Geography
Let's start at the origin point of this topic and define GIS: Geographic Information Systems.
GIS is a system that creates, manages, analyzes, and maps all types of data. GIS connects data to a map, integrating location data (where things are) with all types of descriptive information (what things are like there). This provides a foundation for mapping and analysis that is used in science and almost every industry, including our utility district. GIS helps users understand patterns, relationships, and geographic context. The benefits include improved communication and efficiency, as well as better management and decision making.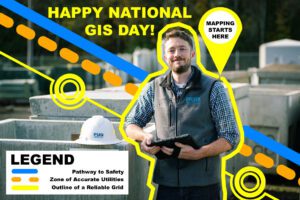 GIS is the framework used by folks, such as our in-house GIS Specialist, Alex Gerrish, to ensure the utility can run safely and effectively. Accurate mapping is crucial for any utility. Mapping underground utilities, updating the electric connectivity model, designing service areas, and so much more are typical day-to-day tasks for mapping specialists. GIS software from companies such as Esri allows a specialist to build upon the world around them with layer upon layer of data that can be activated at the click of a mouse.
"GIS helps us tell a story," Gerrish said. "When a power pole needs to be replaced GIS can tell us how to get there, what's on it, who's property it's on, and where its neighboring poles are. Mapping things gives them a context that a spreadsheet can't give." Working with GIS software is much like working with Google maps, but with a lot more data that's directly relevant to your work. "At the end of the day, it's everything in our databases translated onto a map," he said.
Multiple users at the PUD use GIS daily to make their jobs easier. Line crews use mobile GIS apps to locate and navigate to outages. Staking Engineers now use mobile GPS devices to map new construction in the field. During a recent storm, PUD dispatchers were able to indicate downed trees on the map for quick reference using a feature called Smart Tags. Managers use GIS dashboards to view trends in outages and inspections to inform future projects.
GIS users from across organizations can benefit from working closely with one another in sharing mapping data. Municipalities, utilities, county, and State departments often have their own datasets that provide insight into complex systems, such as addressing or satellite imagery. There is a whole network of GIS professionals, and Gerrish regularly collaborates with City of Port Townsend, Jefferson County, and JeffComm 9-1-1 to make sure everyone is working with the most accurate and up-to-date data.