New Line Apprentice and Superintendent
or, a Tale of Two Joshes.
Though not much more than a dozen years separate them, one of the Joshes is just beginning his journey as a lineman while the other's is coming to an end. Or perhaps they are both starting new journeys. As the PUD's new Line Superintendent, Josh Garlock will be giving up his climbing spurs and union card (as well as late nights in a bucket truck in the wind and rain) to transition to a management position tasked with keeping the crew properly supplied and working efficiently.
Garlock (pictured left) was a line foreman for the City of Ellensburg and the contracting firm Potelco before coming to Jefferson PUD in 2019. During his 15 years in the trade he has worked in California, Oregon, and Idaho as well. Garlock feels his experience on multiple crews in multiple states will serve him well as Superintendent. He says he's sought out new challenges wherever he's been, and is excited to take on the new role. He says his wife and daughter are also excited to have him home more.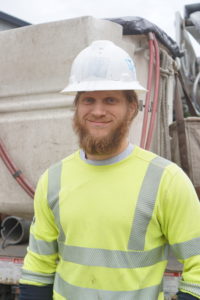 Josh Beadle's wife and children won't be so lucky. Since becoming the PUD's newest apprentice lineman in October, he spends every other Saturday in Grays Harbor attending apprentice lineman school on top of his full time plus overtime duties at the PUD. Beadle (pictured right) said his family is both proud and understanding, as his father-in-law was also a lineman. It will take Beadle anywhere from 3-5 years and thousands of hours to go from apprentice to journeyman. As he progresses he is able to literally move higher and higher up the power pole, from the communications lines to the secondary power lines, to primary and finally to transmission lines. As an apprentice he must always be accompanied by a journeyman. Journeyman can work solo.
Beadle is the PUD's first apprentice since 2017.