Metering Infrastructure Takes Shape
The PUD's first 600 AMI (Advanced Metering Infrastructure) meters are scheduled for installation in September. In preparation, the PUD's meter team have been placing radio recievers (also known as meter gateways) around the county to prepare for the signals that will be sent by the new meters. 
In order to achieve maximum visibility, the gateways are installed as high up as possible. One of the first was installed on a 100′ radio tower outside the PUD's Otto Street facility in Glen Cove. In total, the PUD AMI program will feature approximately two dozen radio receivers throughout the county. The highest gateway of all will be installed on Maynard Peak above Gardiner.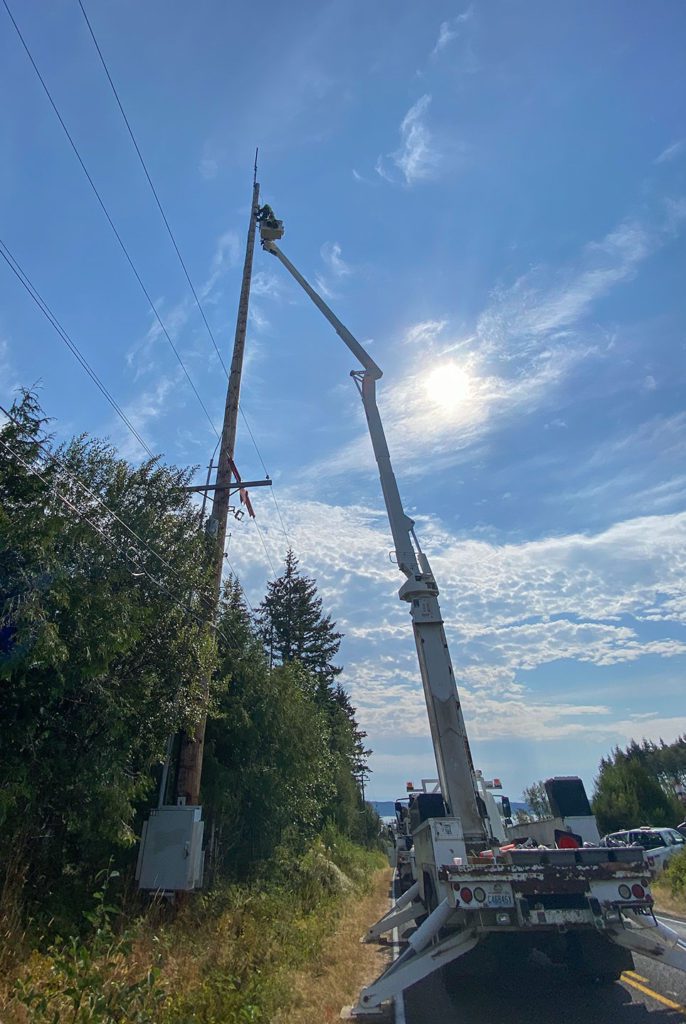 A recent gateway was installed on a 90′ power pole along Paradise Bay road (pictured). This was done in conjunction with the transmission pole replacement along State Route 19. Both projects required a specialized extra tall bucket truck capable of extending up to and beyond 90′ high, which the receiver required for maximum reception.
Though extra tall, the pole on Paradise Bay is not a transmission pole. At least not for power. In fact, it already has a radio receiver for PUD meters at the top. But this receiver is for our older meters, which are known as AMR meters. AMR meters send their read via radio signal to the Paradise Bay tower are not read by the PUD. Instead, they are read by the meter manufacturer, Landis + Gyr. It's a complicated arrangement inherited by the PUD when it purchased the electric grid from PSE in 2013. 
The PUD's current meters are up to 50 years old, and lack modern features that allow for two-way transmission, enabling low-cost cloud-based reads, remote reconnects/disconnects, and integration with renewables. 
Customers wishing to learn more about Jefferson PUD's grid modernization program can click here.
Customers wishing to opt-out of the meter replacement program can do so via the PUD's website. Application instructions are located under the My PUD tab. Please note: Additional charges apply for opt-out meters.