Update on November 24 Outages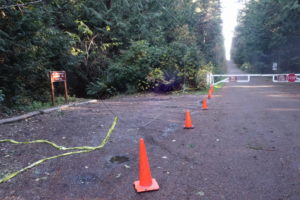 Update 12Noon 11/25/2015
This morning brings us clear, cool skies and a lot of progress on outages caused by the November 24 wind storm that impacted much of Puget Sound. While we are down to about 100 customers out, Kitsap and Island Counties still have over 16,000 customers out at the time of this update (10AM), a testament to the power of this storm event. Our hope for everyone in the region is that they can get their power restored by the holiday.  Jefferson PUD will do its part to make that happen for our customers.
Overnight crews restored Cape George area, South Point-Thorndyke Road, Eaglemount  Road, Linger Longer Road, and West Arcadia Road.
Crews will be working today on Maple Lane and Belfrage Road (Port Ludlow area). Spans are down in both areas. Also Theater Road and Old Fort Townsend Road have spans down (see image above)
Sea Home/Carpenter Road and East Go'Onna Road were restored in the last couple hours.
A few new outages that occurred overnight on Pete Beck Road in Quilcene and Lonestar Road will be restored today. Tree crews should be onsite in Quilcene at the time of this update.
As is always the case, these restoration actions are always subject to change based on the conditions on the ground.
Our crews have been on a marathon run through the last week and more than deserve a quiet Thanksgiving with their families.  So far, the weather forecast looks like that will be likely. As always, if you are out of power or know someone out of power – even if the neighborhood is listed above – please give us a call at (360) 385-5800 to make sure we have that outage on our map.  The PUD is grateful for your patience and we hope you all have a very happy, safe and warm Thanksgiving.