Fiber Internet FAQ
What is fiber internet?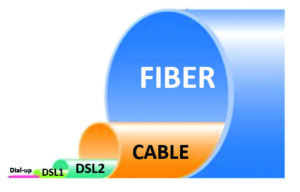 Fiber refers to fiber-optic cable. Fiber cable is a hair-thin strand of glass that uses light instead of electricity to transmit voice, video, and other data sources at incredibly high speeds. Fiber is approx 20x faster than regular internet cable. Cable can provide speeds of 1Gbps down, but are slower in upload and become slower during high-demand hours. Fiber is approx. 80x faster that most DSL, which uses copper phone lines to transmit. Satellite broadband/5G can provide broadband speeds but have limitations on coverage and even physical blocks, like trees, can impact service greatly.
Why is the PUD expanding into fiber internet?
The COVID-19 pandemic has made it clear that access to broadband internet is essential. But in rural, geographically isolated Jefferson County, quality high-speed internet is only available in a handful of more densely populated areas. Residents outside of these few areas lack access to internet that allows them to participate successfully in online meetings, remote schooling, and telemedicine. Some lack access to any internet at all, or try to make do with expensive and less reliable satellite or cellular connections.
In order to facilitate access to high-speed, reliable, and affordable broadband internet for all residents in Eastern Jefferson County, the PUD has applied for and received multiple state and federal grants and loans. View the project areas below the FAQs to learn more about where the PUD is building fiber and providing service in the next few years.
How many grants have been awarded and how much total?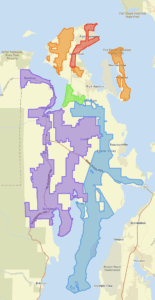 The PUD has been awarded 4 grant and loan opportunities as of Oct. 2022, totaling approximately $25 million in funding. A 5th region (colored blue on the map) is in the application process. If awarded, the total funding available would be close to $40 million.
The RED colored zone is a low-interest loan by the Public Works Board and is specific to the Port Townsend Business Project (see below for connection fee structure for red business zoned area).
How are fiber buildout areas designated for grant funding?

Check out our Fiber Installation Map and search your service address in the upper-right corner. Within a grant-funded area? Registration is quick and easy via our online form here.
Grant-designated areas are zoned by speed—both download and upload speed. The qualifying speed was 25mbps (download)/3mbps (upload) or less. "mbps" is megabits per second. 25mbps is enough (typically) to use one internet-connected device in a household to watch a Netflix show—not enough to conduct a Zoom call, however.
How much will fiber to the home cost?
For most customers located in grant funded project areas, all costs to build fiber to the home and install the service are covered by the grant, including bringing the fiber cable to the outside of the home, and installation of the modem/router. Charges for monthly service still apply and depend on the internet speed or package requested.
PT Business Fiber area: Fiber connections in the red area is for business only (must have a current UBI # with the state), and does require a $1200, one-time connection fee, which can be spread out over 3 years in monthly payments.
What speeds are offered by the PUD, and how much per month?
Fiber can transmit data simultaneously both ways, so the speed (in Mbps and Gbps) represents download/upload speeds.


How do I register for PUD fiber?
Registration is quick and easy via our online form here.
The PUD has hundreds of miles of fiber to install and thousands of customers to connect. It will take some time and we will be in touch with registered applicants to provide more detailed timelines for construction and connections to specific service location. During construction, the PUD will need to confer on a location to bring the fiber into the house or business. If you rent, you'll need permission form the property owner prior to installation. After construction is complete, you will be provided a service application to complete that indicates the monthly internet service speeds and package desired from the PUD, or if you would like service from another vendor on our open access network.
Why not available in other areas?
Residents beyond the grant-funded areas may sign up for the fiber registration, however priority is placed within the grant and loan-funded bounds and customers beyond the boundary may have to pay connection fees for construction, installation, and equipment for the home. The PUD Board of Commissioners will determine a connection fee structure.
When will the projects take place?
Buildout to project areas is scheduled to begin in 2023 and run through Dec. 2025. Project timelines are based upon grant funding stipulations. Completion dates for each project area is provided on the side bar of the Fiber Installation Map.
How do customers get more info?