Capturing the Sun – Banked Credit System
As of Early-2023, Jefferson County has approximately 518 residential systems (solar, wind, etc.), up from 171 in 2014.
The PUD provides net metering for customer-generate power such as solar, wind, micro-hydro, etc. Energy produced (measured in kWh) is tracked by metering equipment before being fed onto the grid.
New AMI meters are bi-directional, allowing energy to flow to and from the home.
Excess customer-generated energy is sent to the grid and a credit is applied for the customer for the amount remaining at the end of each billing cycle.
These energy credits are reset each year by Washington State law on March 31st or the last billed date in March. Net meter credits are displayed on monthly billing.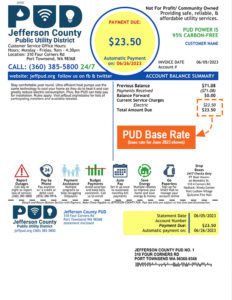 How do net metered credits work?
Customers with solar can run their home directly with their array, while excess energy is metered and placed onto the grid. If the clouds roll in or when the sun goes down, PUD power supplements the remainder of the day.
Banked energy credit is then used to cover the kWh of PUD power used during the non-generating times. This cycle continues day by day, with any remaining credits (energy not used during the evening and morning hours each day) automatically applying to the next month.
Please note: The PUD has a base rate applied to all electric services, which is part of each billing. The PUD base rate beginning July 5, 2023, is $26.00/month. Credits do not cover this cost.
Energy credits produced by a home are not calculated daily, but rather the remainder (the difference between home consumption and home generation) in each month is applied during billing.
Unused credits banked month-to-month are continually used on days the solar array does not meet the home consumption needs and may extend into the fall or winter season when generation is often low.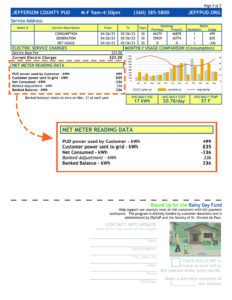 Is your net meter system approved?
The PUD must account for all energy flow from and to our local grid. New solar array construction requires an Interconnection Agreement (link here), and a Net Metering Agreement (link here) signed by the home or business owner.
IMPORTANT for home purchases: Purchase of a home with a solar array requires submittal of the Interconnection Agreement and Net Metering Agreement as well, as each agreement provides useful information for customers about how the utility manages customer-generated power.
Expansions to existing solar arrays is on the rise, and upgrades to must be documented. Replacing panels with new, more efficient panels can greatly increase energy production and the PUD must have record of changes. In most cases solar installers manage paperwork attributed to a solar array.
To learn more about net metering visit our website, here.
Questions about net metering or billing? Contact us at: meters@jeffpud.org