Poles Connect Us All – Utility Pole Testing
There are approximately 10,500 utility poles supporting hundreds of miles of utility line throughout Jefferson County.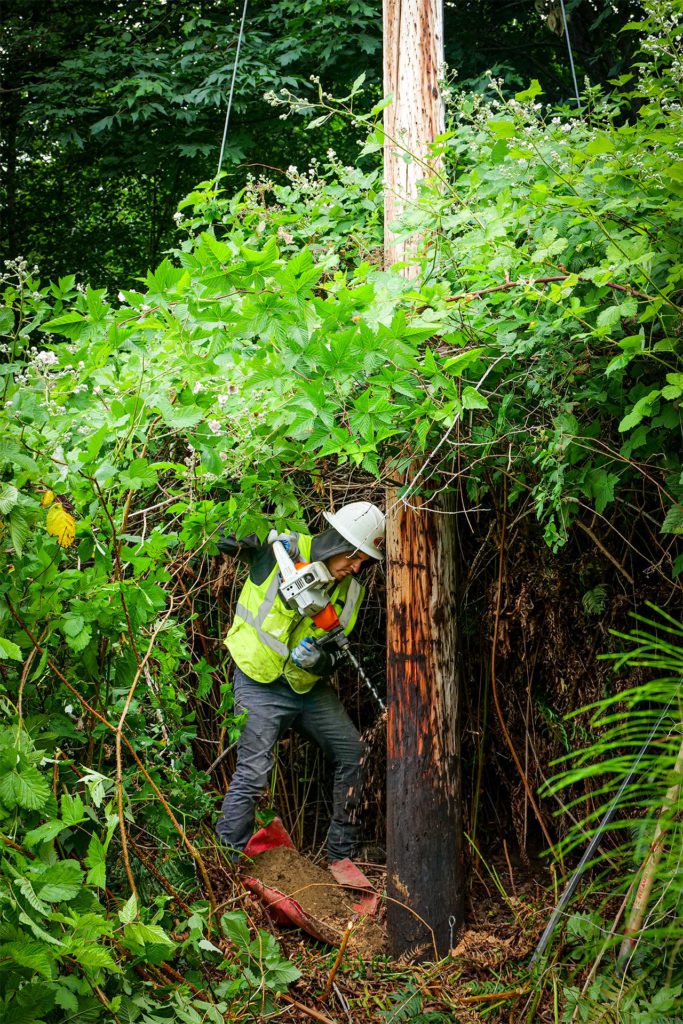 Each pole is an essential component in our local grid and routine pole surveys provide details on pole health and identifying priority replacements. The end result is improved service reliability and safety for the public and for line crew conducting repairs.
Contract groups, like Kelso-based Pacific Pole Inspection (PPI), provide pole health data for each and every pole within a prescribed area.
PPI inspects 1400 poles annually for the PUD, with the inspection team averaging approximately 60-70 poles per day.
The pole inspection process can be as simple as stepping off the roadside or (as is often the case) requiring bushwhacking through salmonberry and blackberry bushes to gain access.
Each pole exterior is photographed, and existing pole tags are identified. Pole tags note not only the pole number itself, but previous inspections, wood species and manufacturer, and treatment used. A visual survey is conducted, focusing on malicious attacks by woodpeckers, fine wood dust from boring insects, and weather damage typically in the form of a rotten, jagged pole top.
A pole may look fine from the outside, but inside may tell a whole different story. A "sounding test" is conducted by hammering the exterior of the pole. It takes a practiced ear, but the sound produced tells much about what lies inside.
Internal testing involves 3 bore holes into the pole at various heights—below ground to ~18", at ground level, and aboveground 24". Each bore is angled at approximately 45 degrees to provide the tester a larger sample area to conduct a bore scrape.
Testing the internal structure requires a delicate, seasoned touch. A feeler gauge with a lightly curved end is inserted into each bore and drug along the sides to determine the internal structure. A soft, punky center where fibrous pieces come out with the gauge signifies rot or bug damage to the heart wood (center) of the pole—larger pieces of wet wood pulled from the bore can indicate water intrusion and rot.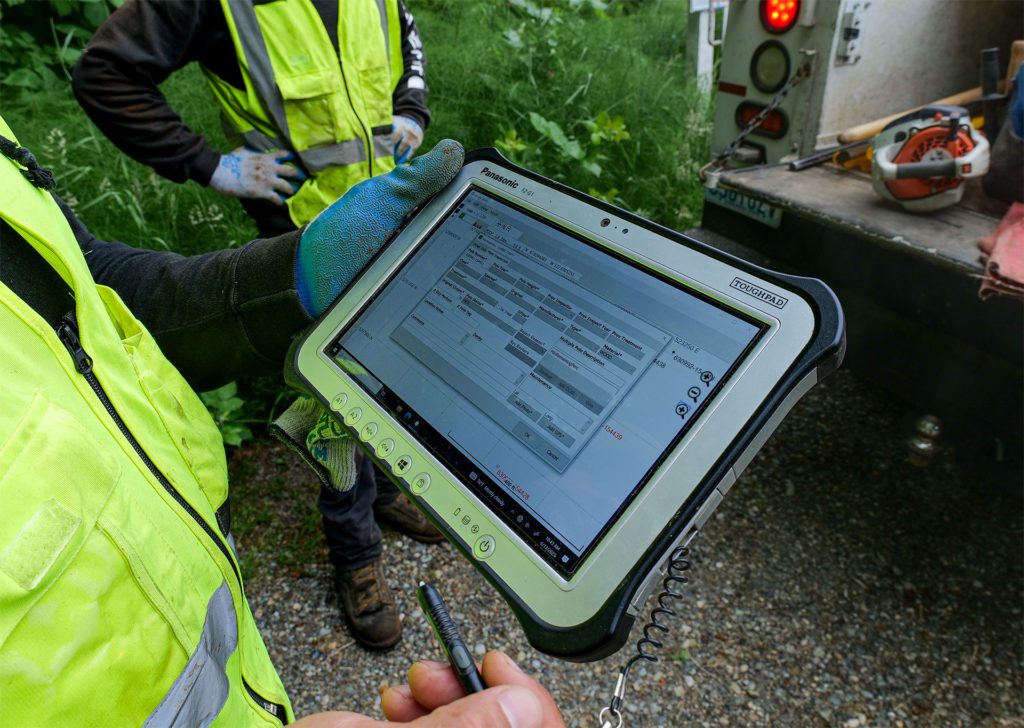 The gauge test helps paint a picture of the internal structure and a final assessment by the team determines the percentage of good, structural material remaining.
Once inspected, the team fills each bore hole with preservative designed to ward of insects and rot. Aboveground bore holes receive an coated insert to seal the hole, while the belowground bore area is coated with a thick epoxy-like preservative to help reduce rot.
New identifying tags are applied to each tested pole, including red tags identifying priority replacement poles. Priority pole information is sent to the PUD engineering team to prepare for replacement and coordinate with the PUD operations & line crews.